The Big Reveal…

I had the honor and the pleasure to be involved with my wife's cousin's 10th Anniversary. Held at the beautiful Guthrie Theater, and on the night of the Aquatennial Fireworks.
This is the story of the night I will never forget…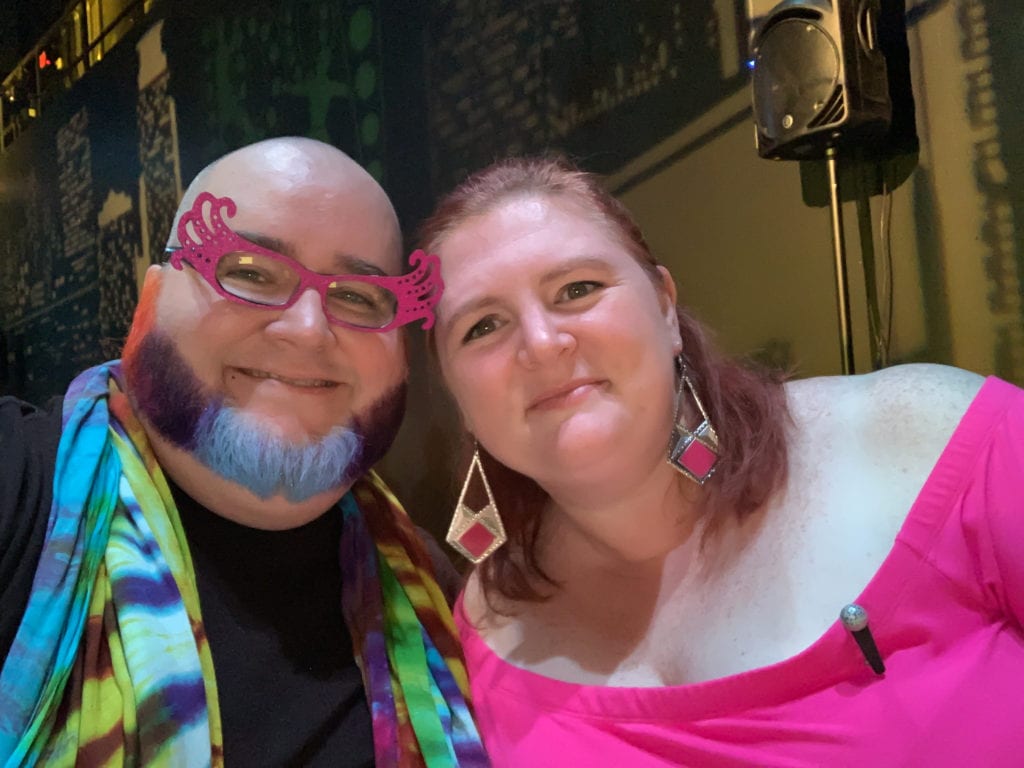 If you know me, you know I am a creative individual. My mainstay is graphic design and photography, and now knitting and sewing. I've planned my own wedding, and I've been involved in committees that have planned large-scale conferences. So I'm no stranger to event planning, but not with just a small group of people.
But, I'm also a Virgo. I love color-coding, making Gantt charts (look it up people) and organizing the ever-loving shit out of EVERYTHING! Ask my family, I have our family vacation itinerary planned out, color-coded, and printed in triplicate. I think it's the anxiety in me.
Anyways, back in December of 2018, my wife's cousin and his husband asked me if I would design them a Playbill program for their anniversary event. I said, "Of course!" (it's one of those rare fun projects that a designer gets to do and have some creative freedom with) and little did I know that a single booklet would lead my wife and me to help plan the event!
After we met with them to go over the program details, my organized self sent them an email with my detailed notes of the meeting (as I do with all my clients) as well as some follow up questions about the event (do they have invites already designed? RSVP cards? Do they want them all to coordinate together, etc.) and a timeline of the designing/proofing/printing process.
I think they were so impressed by all that—and we had asked questions that they hadn't even thought of yet—that they called up my wife and asked if she and I would be available and interested in helping plan their reception event. I wasn't working at the time, so I did have a lot of free time on my hands. So we said yes and met back up with them to go over every detail.
They had some grand high-level ideas. A Broadway-themed social hour, with a central park themed dinner/reception. They had already booked the Guthrie Theater's Dowling Studio (Black Box Theater), Pohlad Lobby and Amber Box, as well as the Endless Bridge for the Aquatennial fireworks. (Now, an aside, their anniversary is in November, but they reallllllly love fireworks!) They had a linen guy in mind, and desserts in mind, but we still needed a Florist, A DJ, a photographer (if any at all) and some other stuff. They confirmed that they did need invites, "RSBP" cards (RSVP cards, but with their initials, HOW CUTE?!), the programs and any other printed item we might need for the event.
So they had the overall idea of the event ready to go, now it was up to us to really chisel everything down to the tiniest details (and boy did we ever!) (Side note: Planning Pod online is a GREAT event planning software!)
Oh…and it's on the same day and time that our niece was getting married. That we were also helping plan. My wife and I decided to sort of "split" and do double duty.
She handled all the meetings/main conversations with the niece, and I handled all the meetings/main conversations with the Cousins. Then we'd meet back up in-between times and work together to get items planned, delegated, worked on, brainstormed, etc. My wife also works for our local print shop (Image Printing & Graphics, Inc.) so it was great that we could send items over there and she could keep an eye it for us!
I won't go into every little detail, but I had a lot of fun going to see the space at the Guthrie and meet the main coordinator there (Luke Neibauer, who was a huge help and wonderful to work with, along with the rest of the staff) and getting to go to the food tastings, picking out linens, and picking out flowers (3 times…but that's another story).
Let's start with the invites. They had their colors chosen—Purple and Green. But they needed a Broadway-style logo created with their event, and the whole invite to be like an event poster.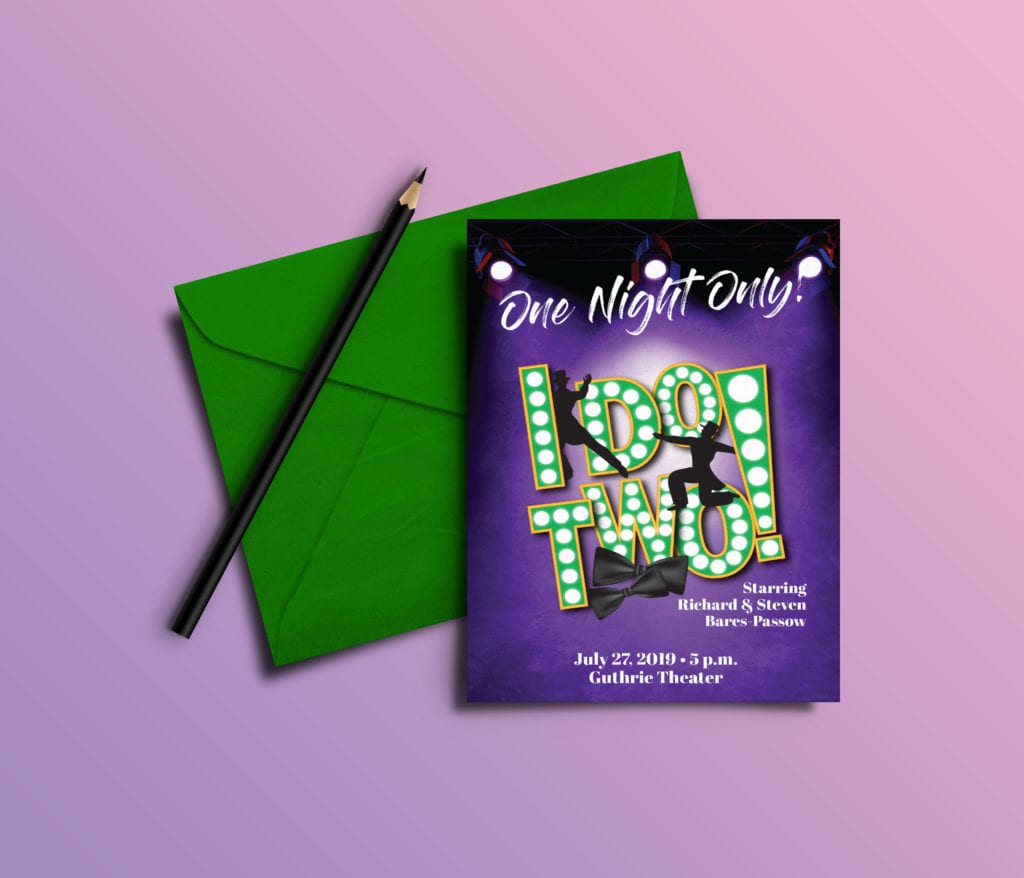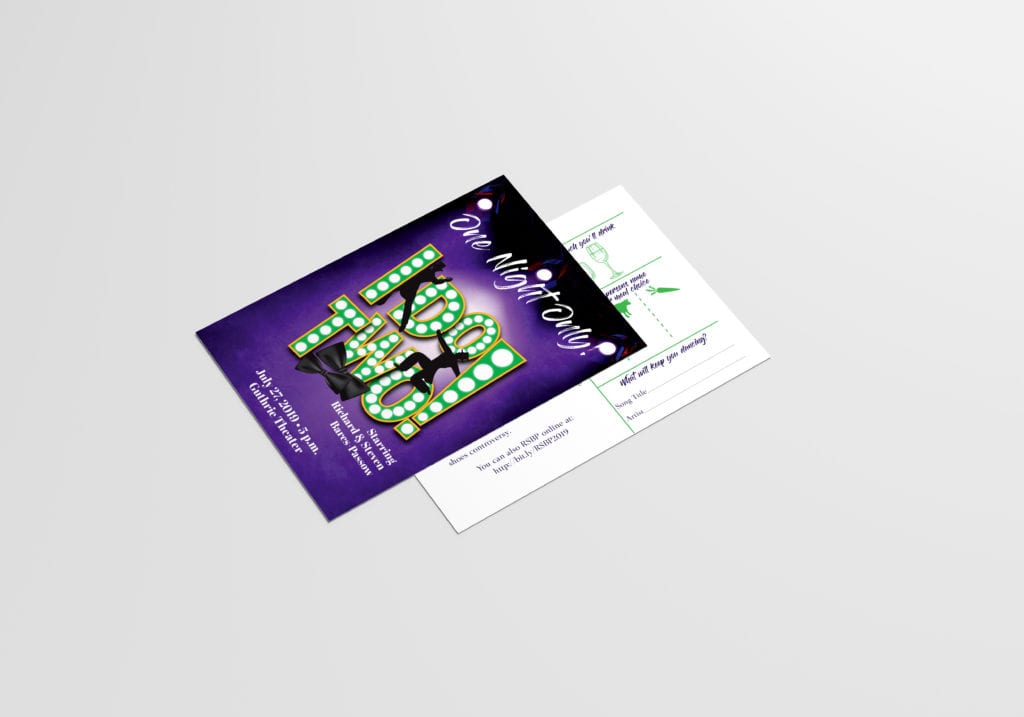 We decided to incorporate green envelopes, we also had an RSBP card to reply back to, and a custom "wrapper" to wrap the entire thing together inside the envelope.
The invite was also coated with soft-touch laminate, which gives the card a "suede" feel and is just lovely to touch. Think of the feel of a red velvet curtain!
We also put together a flyer of items "around town" to do (places to sleep, places to eat, things to do). For those out of town guests.
Next up was the seating chart, and how to handle it. When you get four creative people in a room, it's amazing what you can come up with.
Since it was Broadway-themed, we named each table a specific broadway show instead of a table number. Each table had a Playbill that corresponded to that show.
So, what better way to let guests know where they are sitting than with a ticket! It had their name, the "show" they were seeing and the seat number. I also wanted them to be as authentic-looking as possible.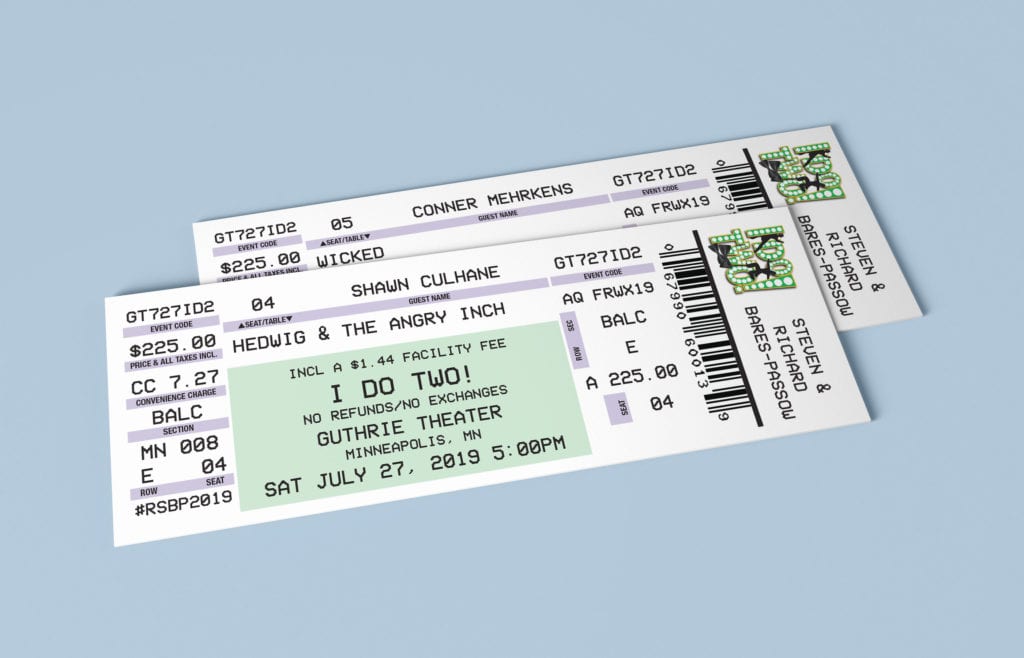 But these were no ordinary tickets! We went through every item on the ticket and customized it to fit the wedding.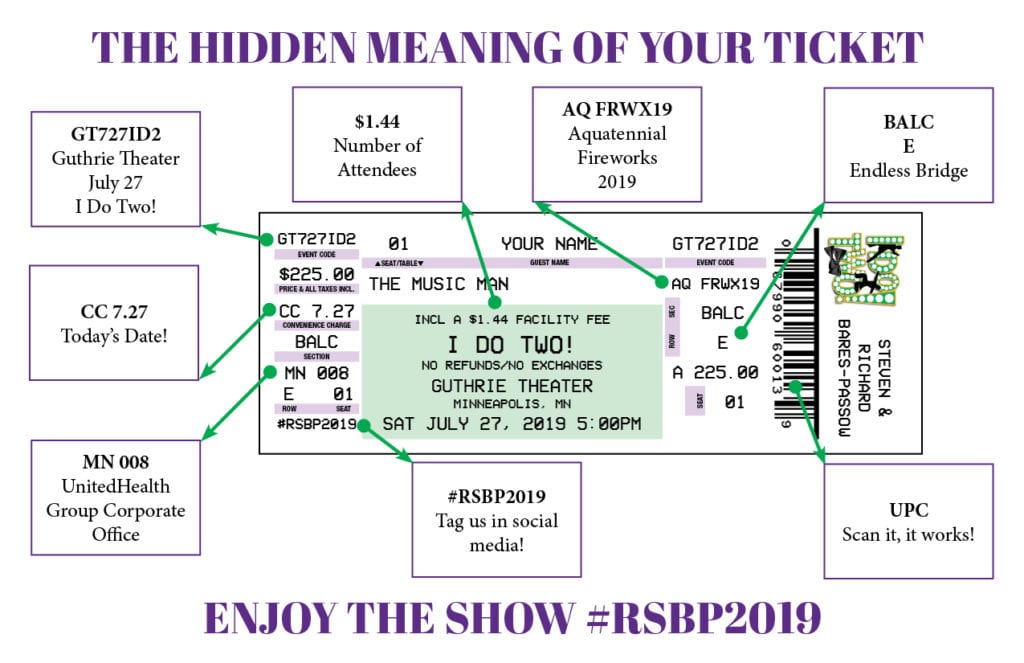 The barcode actually works and takes guests to a place where they can buy a can of Aqua Net. (One of the vintage ads we placed in the Program).
We also had tiny Lamp post table tags (for Central Park) that had the guests name, seat number, and their meal choice. Even the scrollwork on the tags incorporated the firework theme with a firework star image.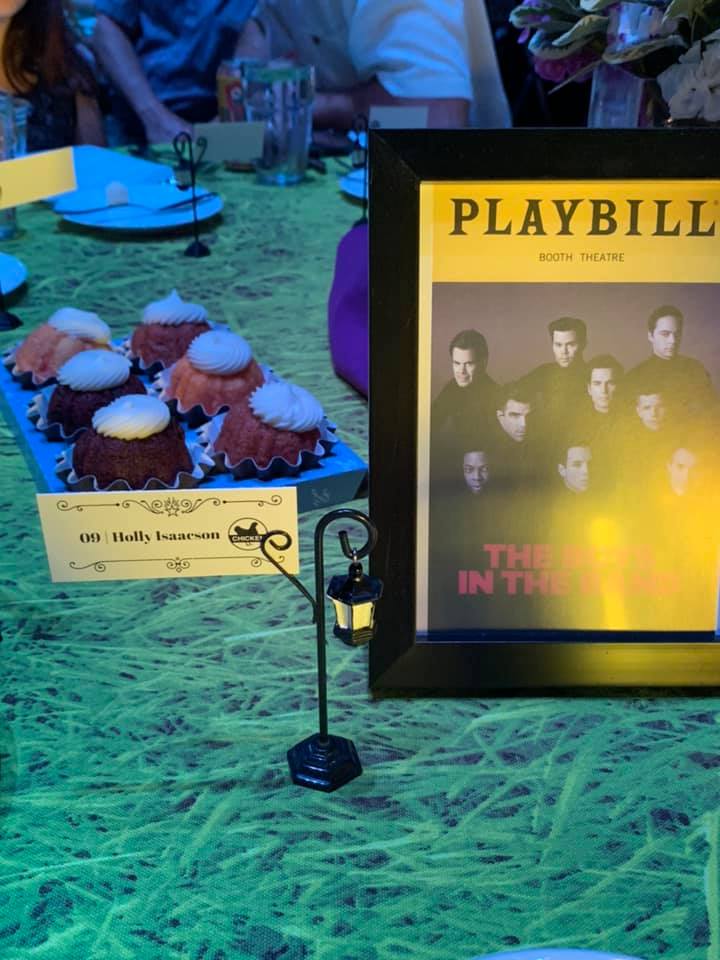 Oh, I forgot to mention the lobby area!
In the lobby area (the more broadway-themed area) the cocktail tables had playbills from various shows on them, with some mums peeking out, and coordinating swatches of fabric to give it a pop of color (all roll-hemmed by me). The colors went with whatever playbills were on the table. Songs from the Broadway shows played, while guests drank beverages and enjoyed served appetizers.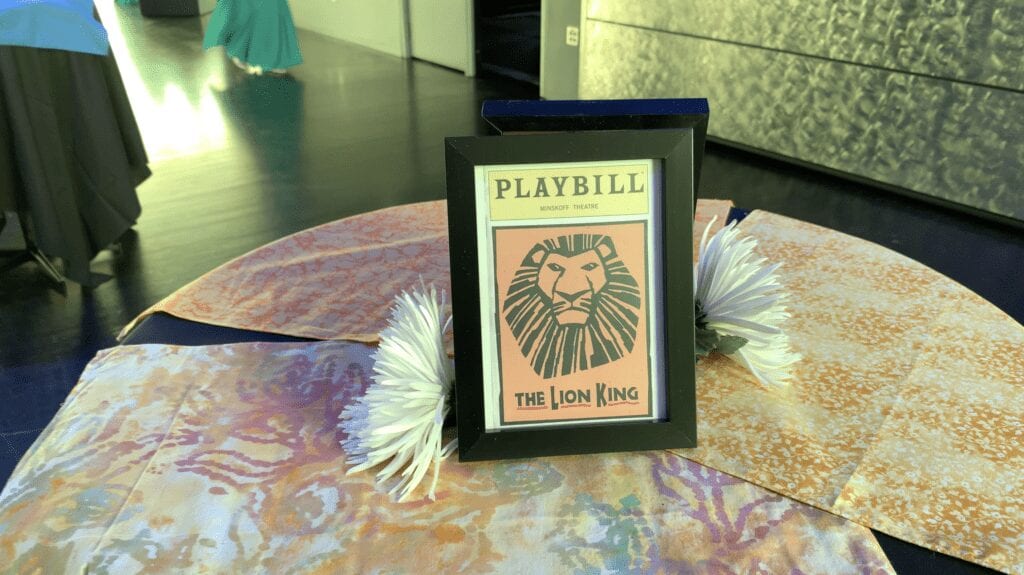 We had a gift table, and the best part, a "Will Call" table for their seating tickets! My wife came up with the idea to wear a "will call" sign so that she could easily be seen above the crowd.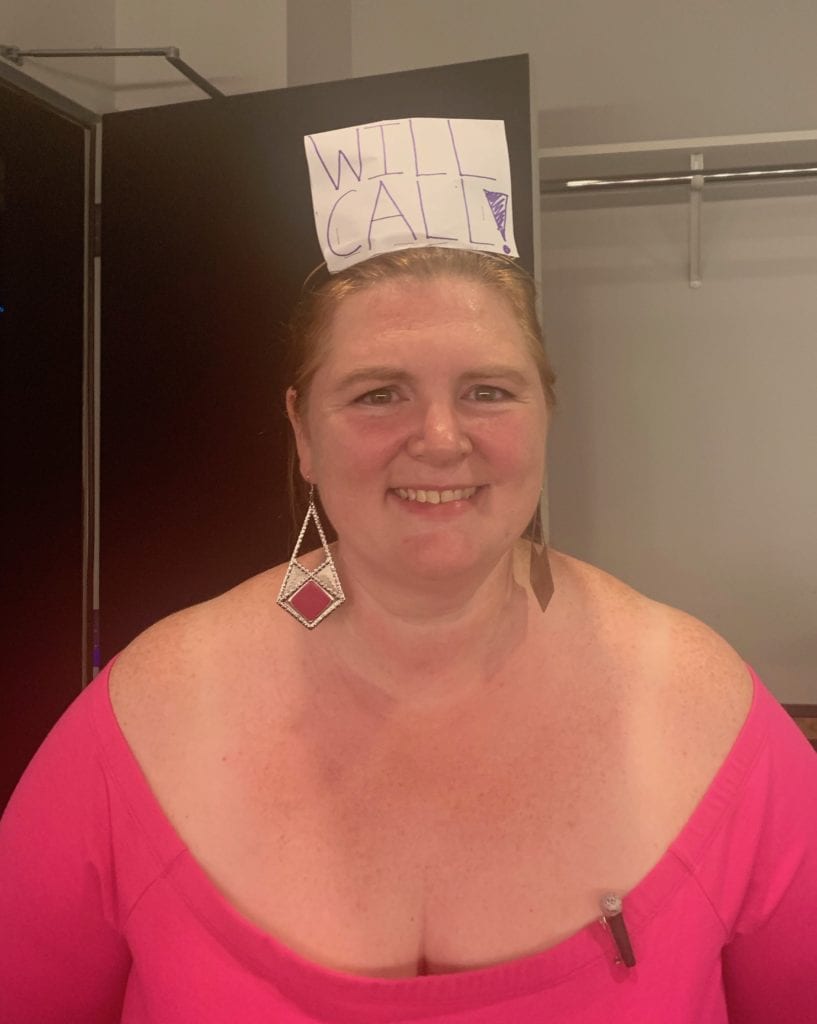 We also realized we need a guest book! But no ordinary guestbook would do, no, we needed a "Guestbook", styled after the Playbills.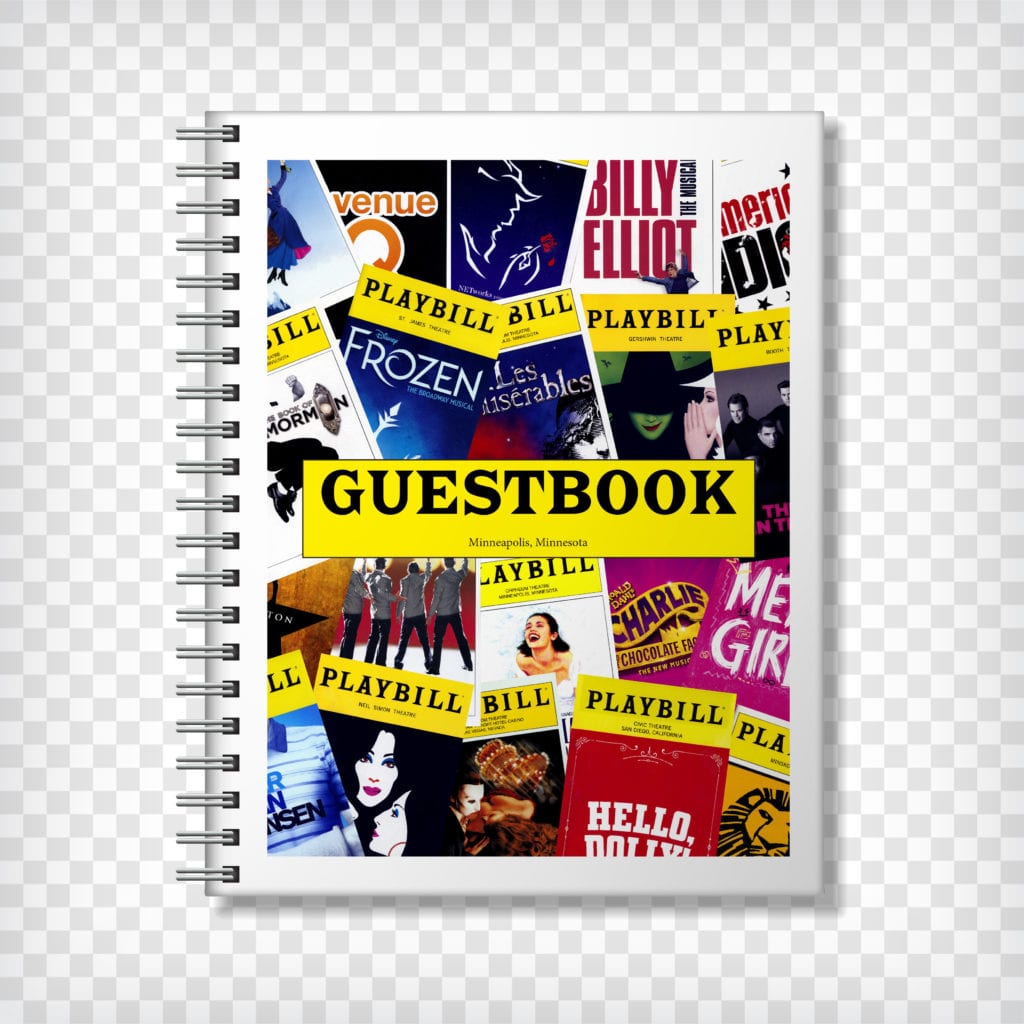 Inside it had places for people to write their info, and then sporadic prints of various playbill covers.
When it was time to open up the "wall" to the banquet area, our DJ came up with the great idea to play "Be Our Guest" from Beauty & The Beast. It was a big hit, the guests loved the reveal and it was a great way to introduce "their dinner".
And the piece that started this all off, the program. Oh my gosh, this was so much fun to work on.
They wanted an authentic-looking "Playbill" program, with fake/vintage advertisements (that were from the year the boys were born), Funny Cast Bios, images, funny "theater policies", etc.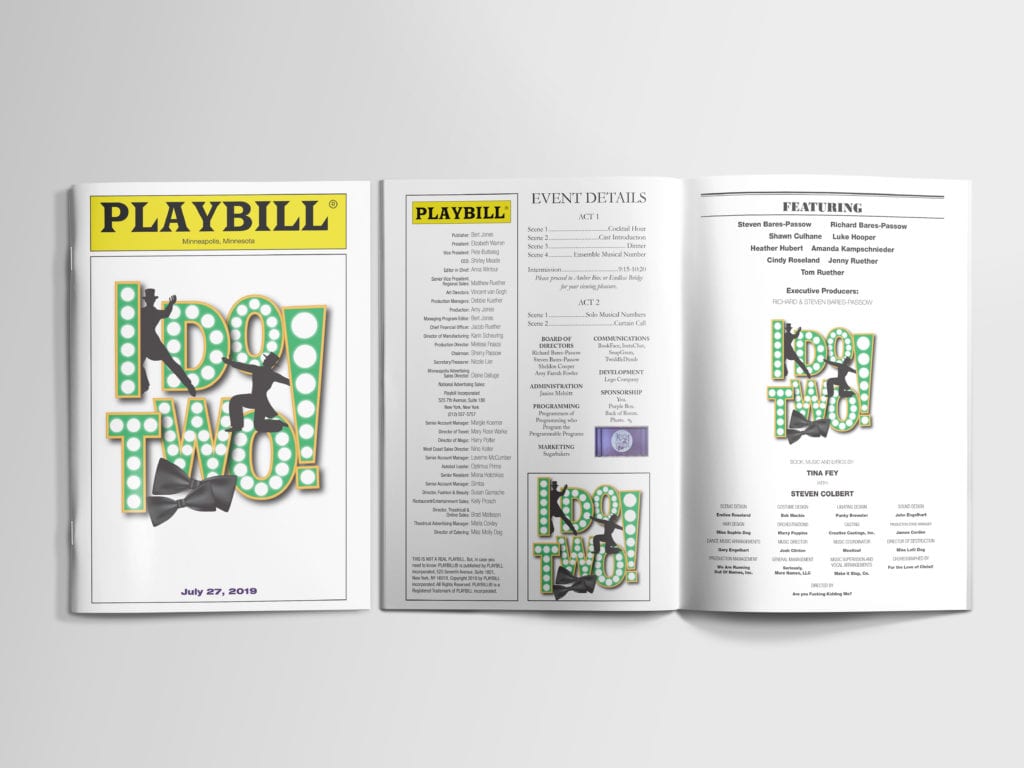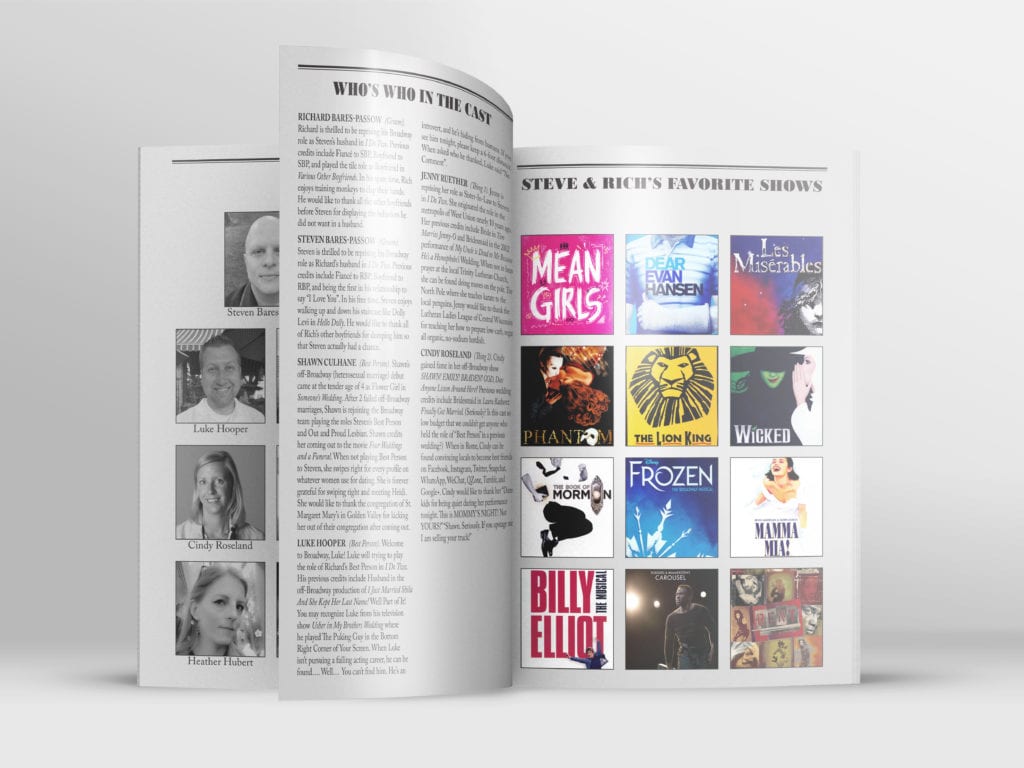 Along with the playbill, ticket tag lamposts, we had some other lovely things at the tables. And let's just talk about those gorgeous tables!
Half of the tables had these trees, with pillar candle holders, that had LED color changing candles. During the dinner, they were purple, but after the fireworks "intermission" they changed to a rotating rainbow of colors.
The tablecloth on these tables was a green apple shag, with a painted napkin pattern.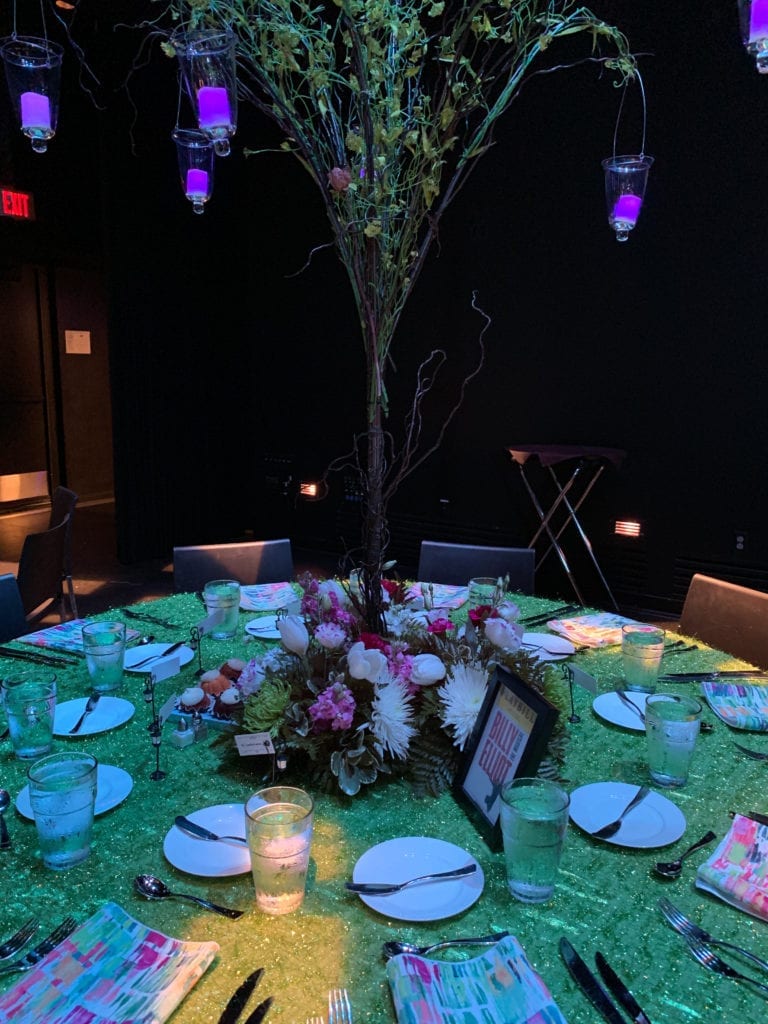 The other tables had a smaller floral arrangement, that had a LED light and purple stones to add interest. With some purple fabric to give some texture. These tables had a grass-printed pattern for the tablecloth and white napkins.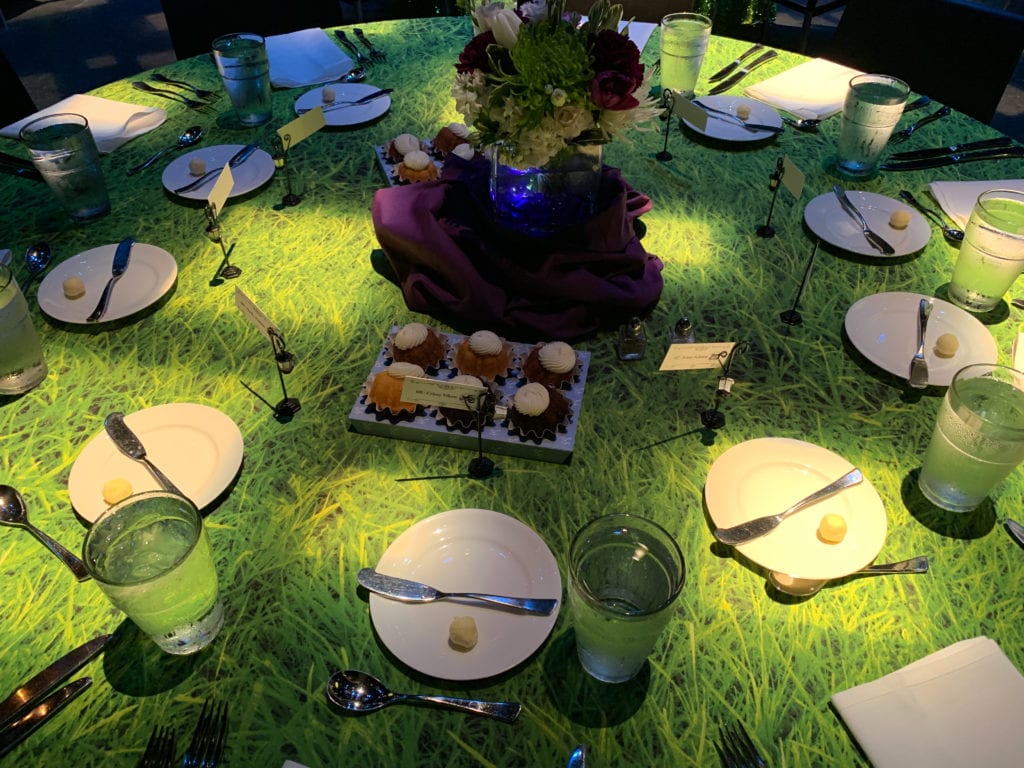 Here is a close up of the patterns:
Linens were through Linen Effects. Russ Mohr was great to work with!
All the tables had various flavors of bundtinis from Nothing Bundt Cakes. My best friends Niece happened to start working there halfway through this event planning, so it was great to be able to call her up and make quick changes if need be.
We had a memorial table for those that couldn't be with us. The grooms wore a single rainbow rose for their boutonnieres.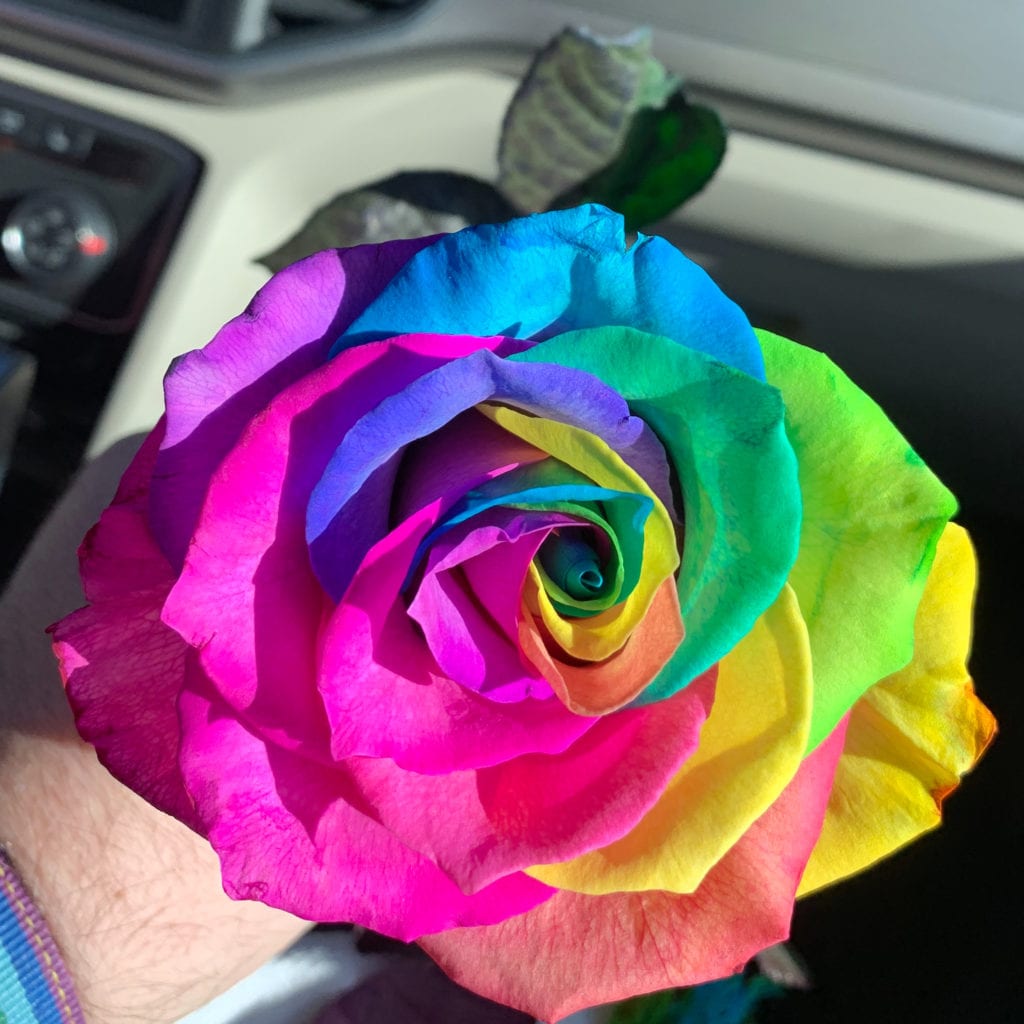 The florals were all provided by Addie Lane Floral in Blaine. Dallas was amazing to work with and went WAY ABOVE the call of duty to help us put out some fires that arose with setup (that weren't even floral related!).
We even had a custom GOBO of the logo made for the event. A GOBO is a little metal disc they create to put in front of spotlights to project an image or design onto a wall.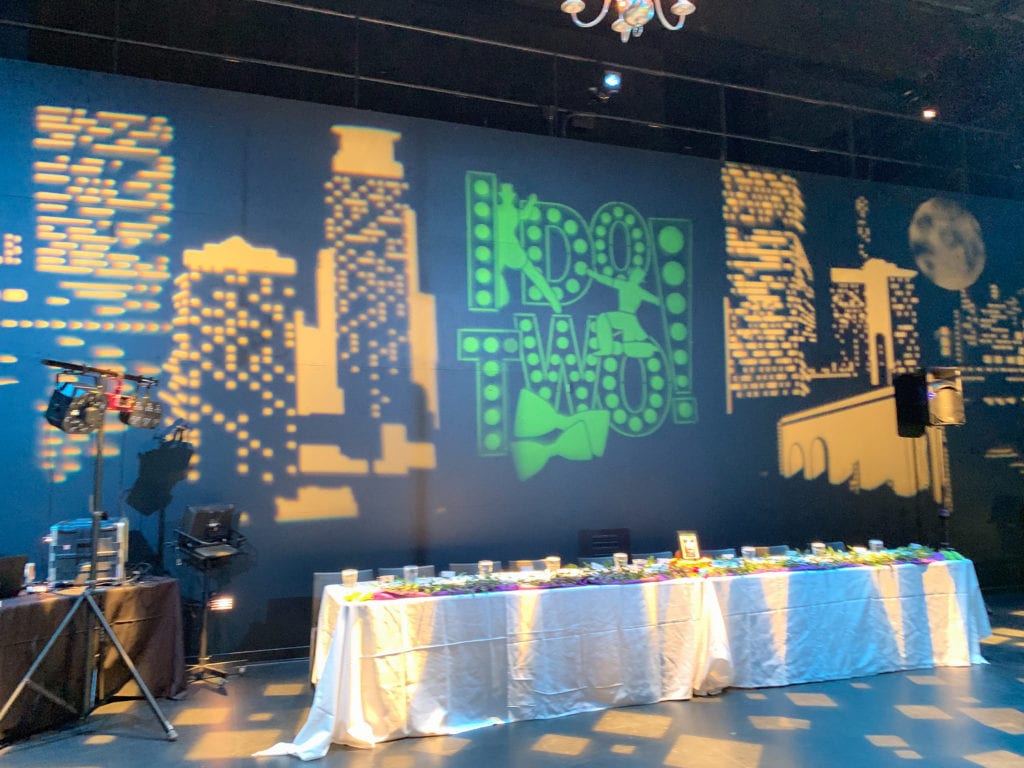 The boys wanted to have special gifts created for their wedding party, so we had special mugs made up with the logo. (The actual mugs had a green handle and green inside the mug.)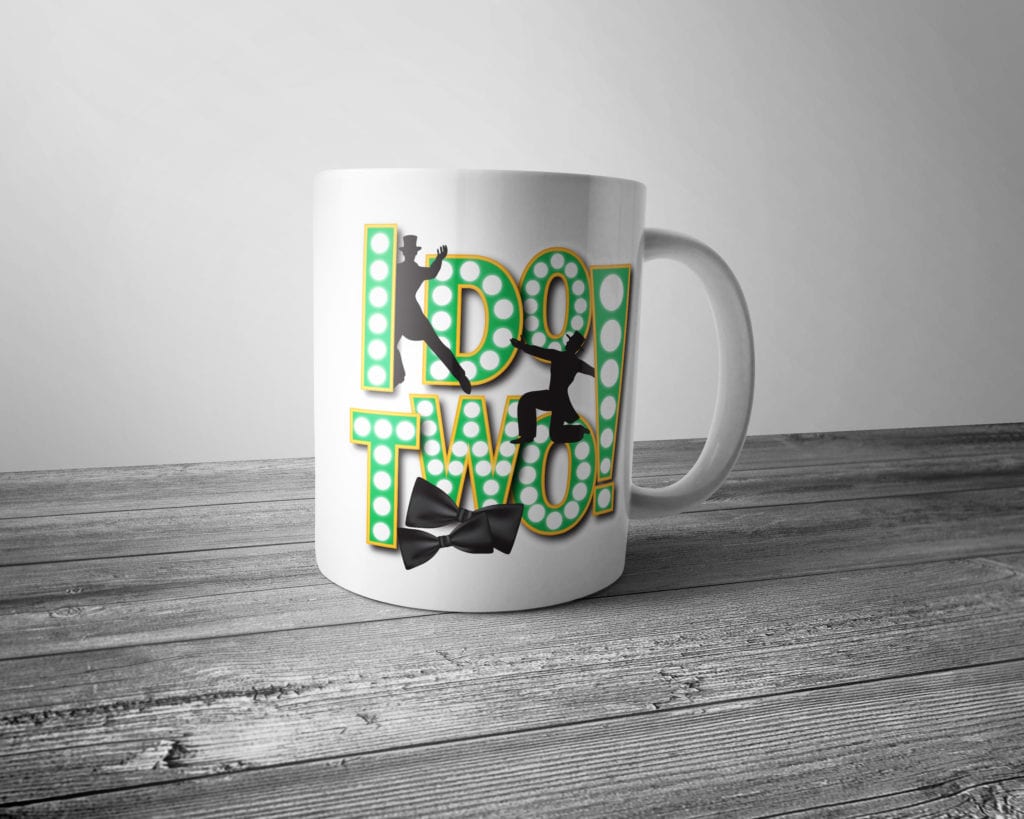 We used the fireworks as an "intermission" break. The fireworks were amazing and happened to use hearts, and purple and green in their scheme this year. You'd think we had coordinated with them!
After fireworks, DJ Josh Clinton, opened up the floor for some karaoke! A bunch of us did Broadway show tunes.
I think what really surprised me (and really, it shouldn't have), was that I had an image in my head of what the space would look like, just from what my clients told me their idea was…and at the end, my image pretty much matched up with the reality at the end.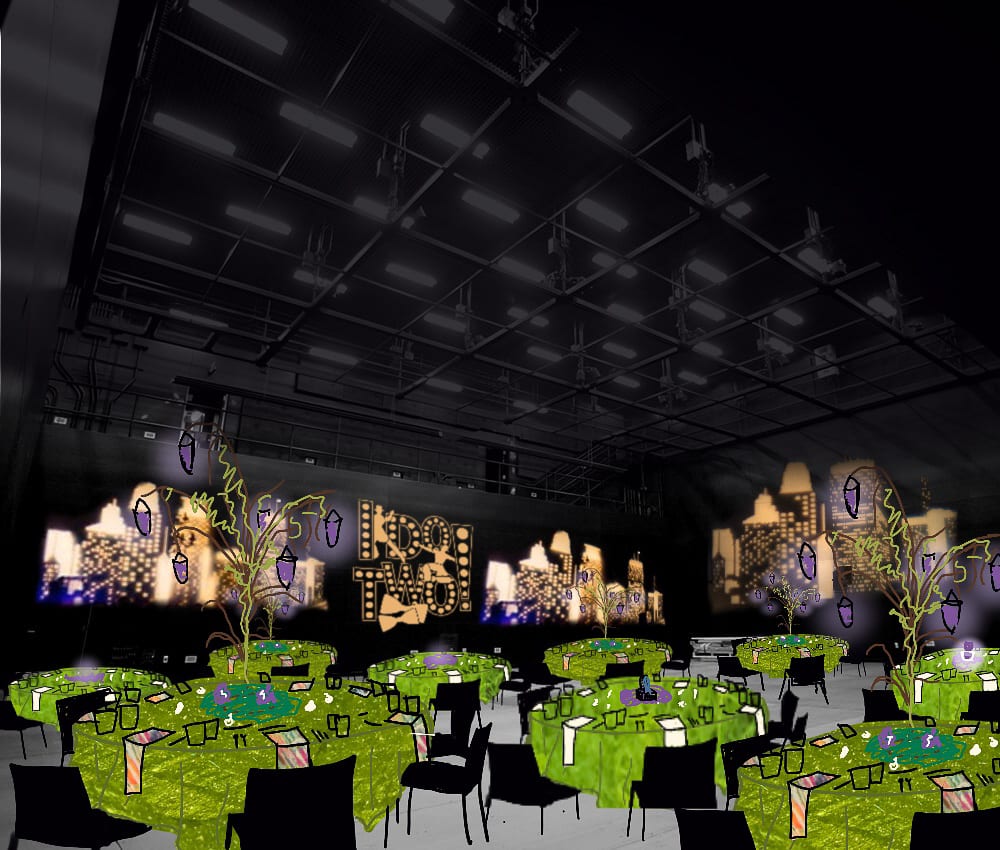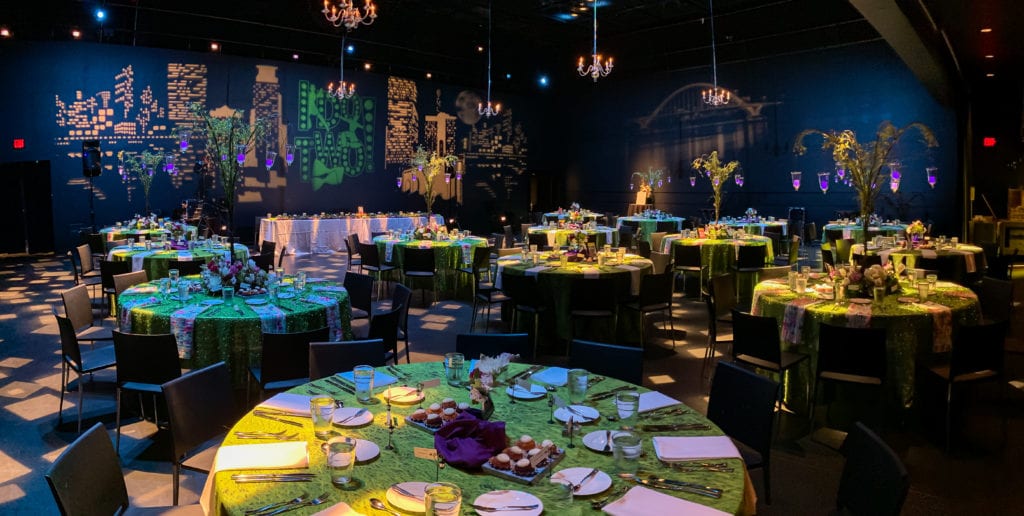 We had so much fun planning this event, and doing our best to take their ideas, and make them 10X more than what they expected, all with remaining within their budget.
It was such a fun night. Even though it was a loooong day for both my wife and me, we had so much fun.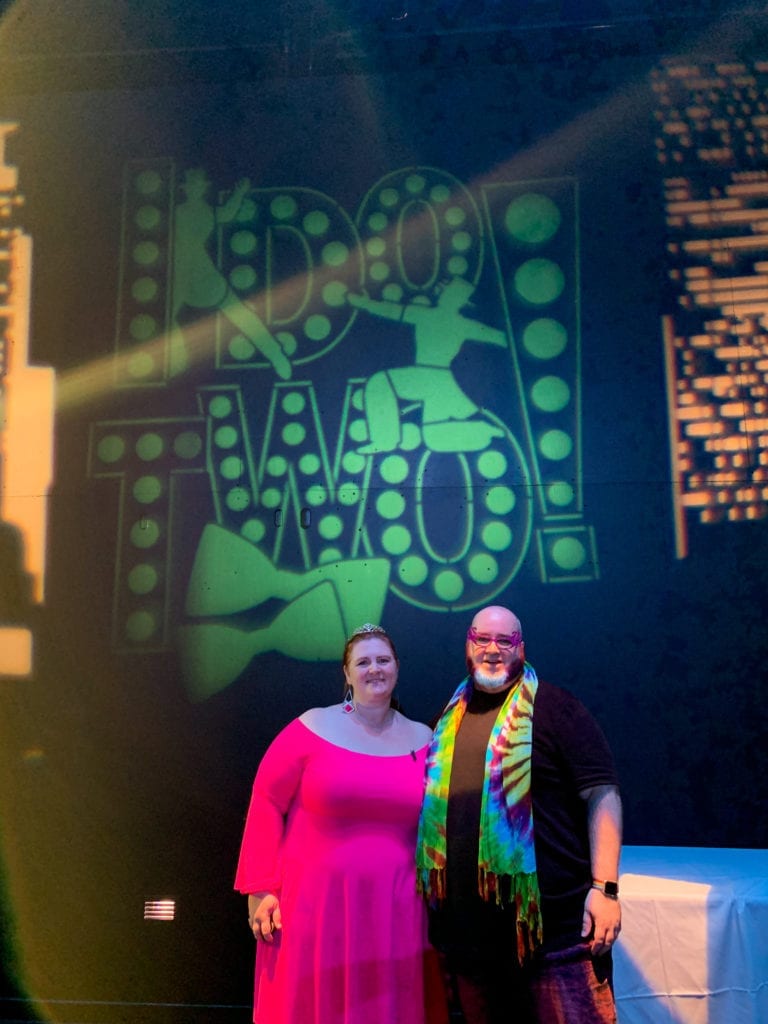 By the way, we are available to plan your next event!